this blog is the top 20 new-to-me artists of 2008 (thus far), for me...many of these artists aren't exactly 'new', but they've become new to me and i want to share them with all y'all! i put it in alphabetical order b/c i really couldn't decide how to rank them b/c they're all pretty different/unique and cross genres a lot...so here goes:
1.
Adrianne
this woman rocks. her music is what i would classify as acoustic lesbionic folk rock. i dig her voice and her songs are always jam packed with emotion. she also has this sweet youtube page where she showcases her new music (a lot of which is collaborated with members from the group Girlyman). Click
HERE
to check them out!
2.
The Bird and The Bee
the first lady/dude duo of this list, the bird and the bee will make you wanna jam out...with your clam out...or rock out with your cock out - whichever works best for you. they are indie-unique and will make you appreciate their alternative nerdiness ;)
3.
Brandi Carlile
i want to have brandi carlile's babies. i've seen her live twice now...and i really can't wait to do her...i mean it...again. never have i ever witnessed an artist utilize her voice to evoke gut wrenching emotion like brandi. plus, she really just knows how to give her songs that extra kick...some spice...a left hook...a curveball...you know what i mean? she's amazing.
4.
The Brunettes
the second lady/dude indie duo on my list, the brunettes bring a sort of euro-chic touch to their songs. if you're looking for a group that is as eclectic as itunes music store, check them out
HERE
.
5.
The Cliks
i first came across this group when i was watching the L word a couple seasons back...but became reintroduced to them when my friend
Dylan
told me to check them out earlier this past fall. this group is canadian and queer. 'nuff said.
6.
Cloud Cult
cloud cult rocks. plain and simple. if you're looking to find some music and lyrics to match your heart, go for this group. there are so many things that make this group super cool and one of them is their commitment to indie music. despite multiple major label offers, they've stuck to their beliefs and their non-profit label is also an environmental one as well! PLUS, they also have added former bassist of Tapes 'n Tapes (who will be mentioned later), Shawn Neary!
7.
Ingrid Michaelson
for all you grey's anatomy fans, you will probably recognize ingrid, since four of her songs have been featured on the late night hospital intern drama. or, if you are an avid watcher of old navy commercials (specifically the
fair isle sweater ads
)...if you're feelin a little emo but not really feelin dude emo music, ingrid is your woman.
8.
Jenny Owen Youngs
this woman is musical genius. LOVE her. not only does she write really witty and snarky songs, she has done some AMAZING covers of Nelly's '
Hot in Herrre
', a hot rendition of the Postal Service's '
The District Sleeps Alone Tonight
', a pretty hot version of Kelly Clarkson's lesbionic break-up song '
Since U Been Gone
', a sultry and yet hilarious cover of Boys II Men's '
I'll Make Love to You
', and finally, a
cover medley
that highlights Kelis' 'Milkshake', Pocahontas' 'Colors of the Wind', Missy Elliott's 'Work It', and finally Jay Z's '99 Problems'.
9.
Joshua James
nothin says emo like a boy from lincoln, nebraska with a guitar and some nerdy glasses and sweet t-shirts. but in all seriousness, joshua james is really talented. beautifully talented...and beautiful. he is a very beautiful male musician. coming from a lezbian, this is saying a lot. he's my new favorite dude.
10.
Joshua Radin
along the lines of ingrid michaelson comes joshua radin. joshua has also had songs featured on grey's anatomy, but it is through his connections with good friend/actor/director, zach braff, that much of his music has been featured on other tv shows/movies (scrubs,the last kiss). but regardless of who he knows and where you've heard him, he is very talented. and the way he harmonizes with girlfriend
schuyler fisk
is just plain beautiful.
11.
Kimya Dawson
what i love about kimya dawson is that her songs and her voice sound like that a snarky, sassy, super smart 20-something would write...her sing-songy lyrical stylings turn me on. she makes you feel like you're not the only one who feels 'that' way. most favorite lyric of her's:
having been fucked is no excuse for being fucked up.
12.
Maneli Jamal
it's not often that i listen to music that has no words, but it's also more rare for me to be moved by music with no words...maneli jamal is probably the most talented guitarist that i will ever hear in my lifetime. he has a way of bringing out feelings and sensations without having to speak a word...his guitar speaks for him and it's simply one of the most beautiful things your ears will ever come across...regardless of what type/genre of music you dig. he's also quite the
artist
!
13.
Meiko
so, apparently i have a thing for artists who've been featured on the tv show, grey's anatomy. whatever. i can't help it if i dig chill folk/alternative/indie/emo music. and how can you blame me once you get a hold of meiko for yourself? seriously folks...there's something super sexy AND fierce about someone who can reach the top 35 AND hold the #1 folk album for over a month on itunes - and that's without being signed onto a major record label! she's sort of a big deal, so you should look out for her and prepare to enjoy yourself :)
14.
Muse
my roommate introduced me to muse and i am eternally grateful. they freakin rock! they make me want to be able to jam out on the bass guitar like they do. i envy their musical stylings. plus, they are featured on
Guitar Hero
, which, for anyone who knows me, means eternal greatness!!!
15.
Paramore
ok...here's a group that seriously kicks ass. AND they do it w/a female lead singer. they make avril lavine look worse than britney spears. (no offense avril/britney fans...sort of...) what i like best about this group is the fact that they totally rock and they're all under the age of 24...actually, they range from ages 17 to 24!!! INSANE. they make emo/rock pop sound meaningful while leaving the bitchy, bratty whining on the curb. plus, lead singer Hayley Williams is pretty cute to boot.
16.
Sia
what can i say about Sia...she's weird. she's Aussie. but she's that good kind of weird...refreshing weird...quirky weird...she's the type of artist that makes you feel like she would be a lot of fun for people with ADD/ADHD. she's got a great voice and a hyper-active imagination. if you haven't heard of her, or if you've only heard her hit song "
Breathe Me
" (which was featured on the last episode of the show Six Feet Under), you need to hear more of her!
17.
Sick of Sarah
this 4 woman band out of minneapolis, mn is fierce. if you're looking for female fronted indie rock bands, this is one you should most definitely add to your itunes playlist. SoS is fresh, innovative, and they make you wanna blast their songs with the windows down!! keep an eye out for this group...i have a feeling they're about to explode and become real big in the near future.
18.
The Sounds
are you a fan of
Blondie
, or
The Cars
? if so, you will love The Sounds...they're Swedish...but way better than IKEA. and they'll compliment your music library better than a poang chair could ever compliment your reading room.
19.
Tapes 'n Tapes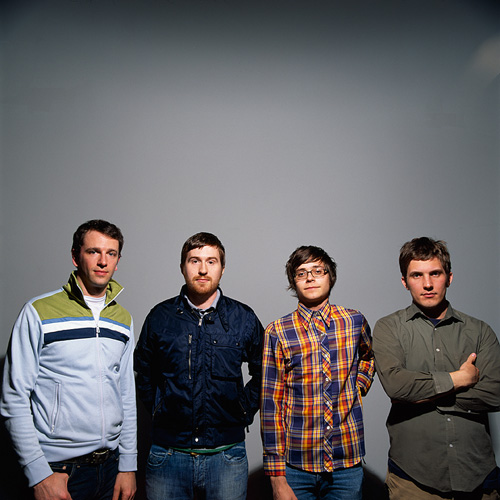 what is so cool about this group made of insanely smart kids from MN (they're insanely smart b/c they all graduated from Carleton College)? the fact that they got huge due to underground, indie music bloggers from around the world. if you're into music that incorporates intelligent lyrical and compositional formations, as well as euphonium, beer bottles and spoons (among other things), then you're really gonna dig this group.
20.
Thao with The Get Down Stay Down
and last but not least, thao with the get down stay down. this group ROCKS! \--/ \--/ (for those of you non-dorks out there in cyber-blog space, that is totally the symbol for ROCK...you know...that thing you do with your hands when you fold in all but your pinky and pointer finger...that is followed simultaneously with some head bangin.) this is the kind of group that i would totally want to become a groupie for and just follow their tours across the country jamming out at concerts. i don't know much about them, as i've only been listening to their stuff on their
myspace
site for about a week now, but they seriously ROCK y'all...
---